REMEMBERING NORM MIDDAG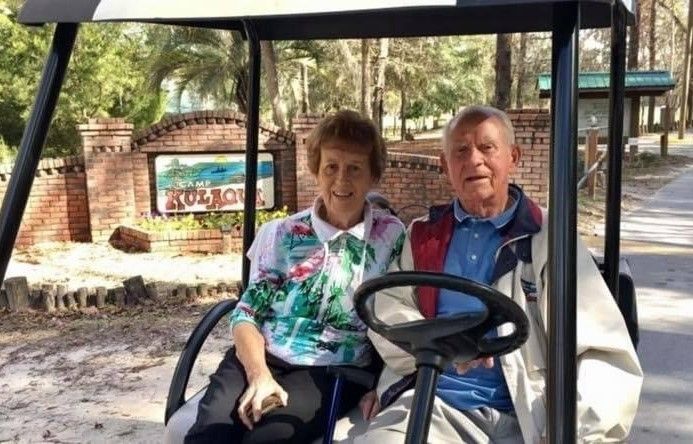 June 24, 2021
We extend our heartfelt condolences to the family of Norm Middag, who went to sleep in Jesus on June 23, 2021. Middag was instrumental in pioneering National Camps for Blind Children (NCBC), which became a program of Christian Record Services, Inc., and wholeheartedly believed in the potential and ability of every individual who is blind to experience adventure in nature at camp. His efforts helped establish the first NCBC camp in 1967, which brought 23 campers together at Camp Kulaqua in Florida, and paved the way for many thousands of children and adults to attend camp in the decades that followed. His passion for young people and education was evident throughout his many years of ministry, and we honor his work and dedication. Middag was preceded in death by his beloved wife, Barbara, who passed away on July 7, 2020. The family will hold a memorial service at a later date.
[Photo credit: Middag family; image of Norm and Barbara Middag at Camp Kulaqua]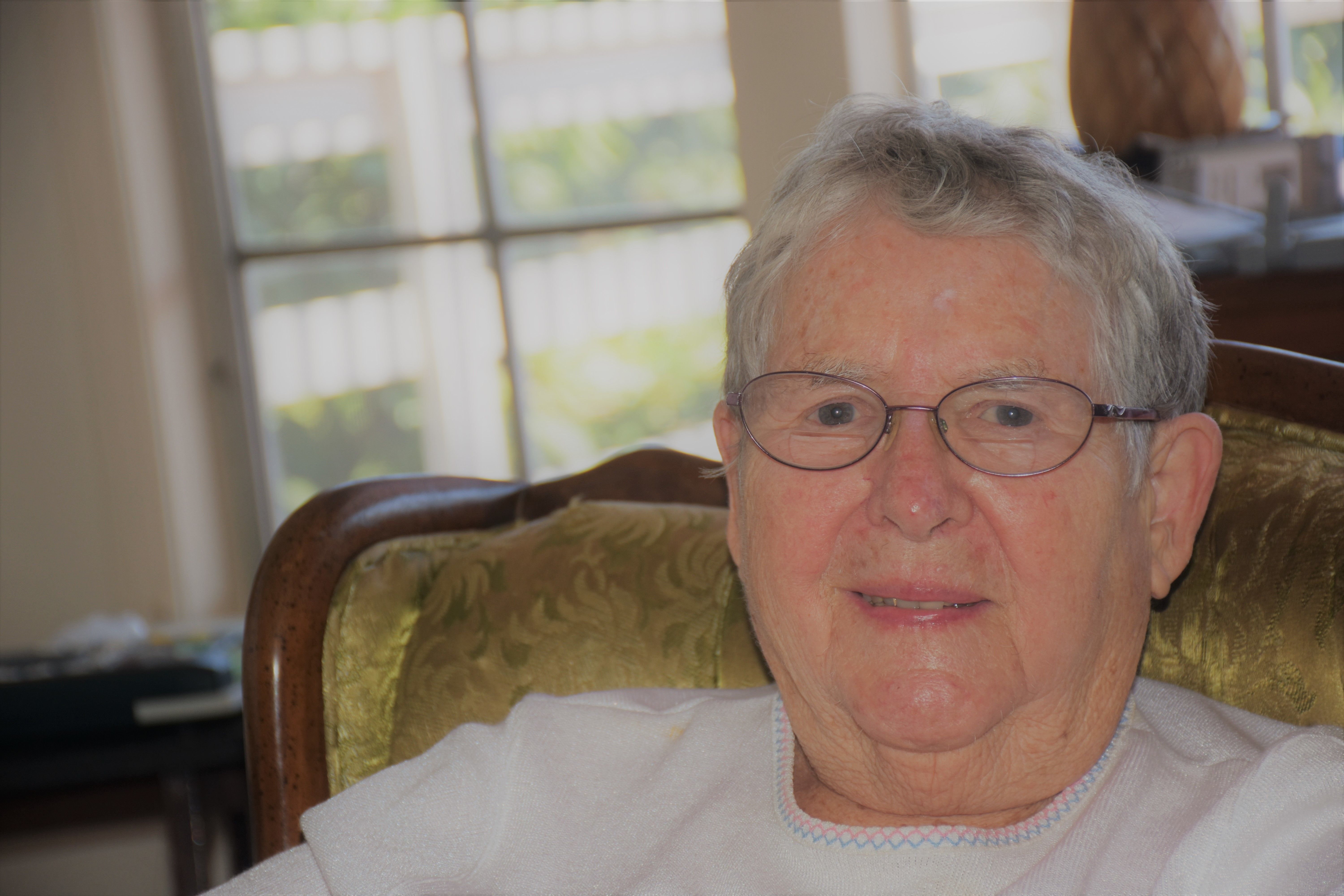 BOARD DESIGNATES NAOMI CHAPMAN TURNER LIBRARY FOR THE BLIND
Lincoln, Nebraska – Christian Record Services for the Blind has named its library, which offers more than 2,000 titles in Braille, large print and audio formats, for an individual who provided critical support as the organization was expanding titles and adding digital-on-demand access for members. The newly named Naomi Chapman Turner Library for the Blind celebrates Naomi Turner, and also honors her mother, who was a Braille instructor at the Canadian National Institute for the Blind in Ontario, Canada, for many years.
According to Diane Thurber, President of Christian Record Services, "Naomi's gifts helped us enhance our library distribution and delivery methods and through a transformative gift made possible through her mother's estate, she has helped the ministry launch PhoneFaith, which connects individuals to live call-in programs that take place throughout each week. With God's divine timing and Naomi's generosity, we are able to connect with people who are seeking community, hope, and inspiration."
Through her mother's work as an instructor, Turner understood the importance, at a young age, of reading materials for people who are legally blind. After a long and productive career that culminated in her work as a Director of Nursing for a hospital, she has recently experienced some of the same challenges, so her gifts are particularly meaningful. "Someone like me looks normal; I don't look like I have a problem with my eyesight and people assume I can do things I can't right now."
Turner's commitment to the library at Christian Record Services began nearly 15 years ago. Studio Director Kalvin Follett said, "With our audiobooks now on digital cartridge, members can navigate the audiobooks quickly, picking up where they left off and experiencing the better audio quality with the digitized recording. We also added DAISY downloadable books as well as streaming audiobooks through OverDrive Listen. During this time, we also implemented a new member database and library software that allows us to communicate more efficiently with members, keep them up to date on resources that might be of interest, and offer an online site where members reserve resources, download audiobooks and refreshable Braille and read digital books in English and Spanish."
With a membership of more than 18,000 located in more than 70 countries, Christian Record Services is grateful for Naomi's foresight and generosity. Says Turner, "I'm so happy my gift is able to help so many."
---
BOARD RE-ELECTS LEADERSHIP OF CHRISTIAN RECORD SERVICES
LINCOLN, NE — Christian Record Services, Inc. is pleased to announce the re-election of Diane Thurber to serve as President of the organization for the next quinquennium term of 2021-2025. The Board of Directors met on November 11, 2020 during a executive session to evaluate and discuss the leadership team and voted their affirmation and support of both Thurber and Lonnie Kreiter, Vice President for Finance, who was also re-elected for for term of 2021-2025.
"The board was delighted to reelect Diane Thurber and Lonnie Kreiter for the next quinquennial session. Diane has been gifted with tremendous leadership abilities. She has a unique blend of compassion and a tough mind to steer this organization in a turbulent water of today's environment. Lonnie has brought tremendous experience and skill as a chief financial officer. His wisdom has allowed the organization to build a strong financial footing to withstand the economic hardship of today's financial challenges. We know that they are the leaders that God has chosen for this ministry in these challenging, yet opportunistic days. Let us keep them and their team in our prayers as they move this organization forward to God's glory!" -G. Alexander Bryant, DMin, President, North American Division
Over preceding 5-year term, the administrative team has lead the organization provided leadership during several significant initiatives, including:
Restructuring, relocating, and revisioning the ministry's headquarters, services and programs
Conversation to a new accounting system which created efficiencies and improvied processes in several key areas, including contribution processing, AP, payroll, financial reporting and budgeting; also of note are the last three annual audits, which featured clean opinions with no material weaknesses or deficiencies of any type noted
Evaluating and overhauling technology including the infrastructure, workstations and services to produce greater reliability and efficiency
Collaboration with overseas Divisions and some Canada conferences to extend services
Transitioning to online digital access of resources for members who are blind
The addition of a new program, PhoneFaith, with daily dial-in presentations available that strive to inform, encourage, and inspire the mind, body, and spirit through mental health and wellness sessions, social meet-and-greet interactions, Bible games, and prayer time
Christian Record Services currently has more than 18,000 members throughout the United States and more than 70 countries around the world. Its mission is to empower people who are blind to engage their communities and embrace the Blessed Hope.
The re-election follows the July nomination and election of a new President of the North American Division of Seventh-day Adventists, who holds the position of Chairman of the Board of Christian Record Services, Inc., according to the organization's bylaws. Glenward Alexander ("Alex") Bryant replaces Daniel R. Jackson, who served at the NAD headquarters since his election in June 2010 at the GC Session in Atlanta, Georgia, and reelection in 2015 in San Antonio, Texas, until his retirement on July 1, 2020.

---
Looking for older stories? Click here to go to the Newsroom Archive.